A man was savagely stabbed to death at a pub in Ealing and another man was fatally shot in a park in Walthamstow in a bloody night of carnage in London violence.
Following complaints of an assault at 11:55 p.m. on Saturday, police entered the Star and Scorpion bar located on Uxbridge Road in Ealing and located a guy who had been stabbed. At the scene, it was determined that the man, who was probably in his 50s, had passed away.
In a separate incident that occurred a little more than half an hour later, the police were called at 12.35am on Sunday to complaints of shots fired in Cheney Row Park off Durban Road in Walthamstow.
A short while afterwards, two persons checked themselves into a hospital in east London on their own initiative. One of the males, who was 28 years old and had suffered catastrophic gunshot injuries, passed away immediately after being taken to the hospital with injuries. He has been identified as Sam Brown, who is from Waltham Forest, according to the police.
The second victim was a man in his 30s who had been injured by a stab wound. After being released from the hospital, he was subsequently detained in connection with the event, and he was then taken into prison at a London police station.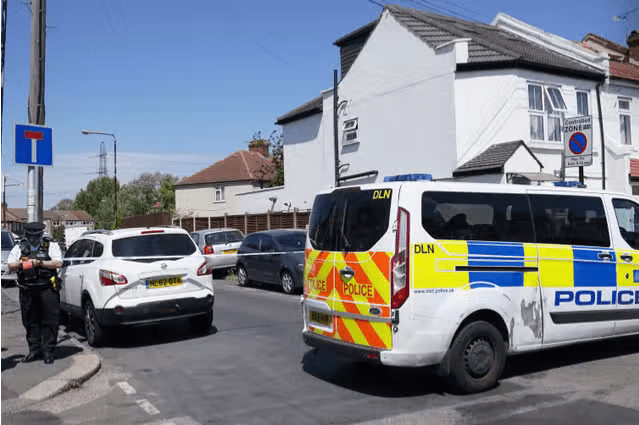 DCI Kelly Allen leads the Met's murder investigation. DCI Kelly Allen guarantees they'll get justice and remarked, "My heart goes out to the victim's family." She estimates 50 to 100 individuals were playing music in Cheney Row Park during the shooting and urges anyone who attended and has knowledge should come forward and speak with police.
A link to upload event footage and pictures will be available soon for further investigation.
DCI Kelly Allen requested anyone contemplating going forward to consider the victim's bereaved parents. Whoever brought a gun to this gathering doesn't deserve protection and hurt more people.
Cllr Khevyn Limbajee, Cabinet Member for Community Safety, stated that they are in close contact with police as they investigate the horrific murder in Cheney Row Park early this morning and urged people not to tolerate violence in order to deliver justice to those affected families.
Cheney Row Park and the adjacent roads are blocked as part of a crime scene, and Council officials will be there next week to provide support and reassurance to the local community.
There is no evidence linking the two incidents. Investigations into two separate murders have begun.
In the future, proper identification and post-mortem examinations will be carried out.
The Ealing homicide inquiry is still without an arrest
.
Call 101, with bellow mentioned references, if you have any information or if you have
any witnesses who haven't yet come forward
.
Cheney Row Park case reference 267/24jul
Ealing homicide case reference 8656/23jul