Residents of London will be risking arrest if they attempt to flee the city during Tier 4 lockdown, which has been implemented today, banning all travel in and out of the city until further notice.
Boris Johnson urged residents to not stay overnight away from home and not enter or leave Tier 4 regions while the lockdown is in place. The Prime Minister also said that people will be ordered to stay in their houses unless they need to make an essential journey.
The legislation that details the exact lockdown guidelines have not been published yet because parliament has not yet come to an agreement on the issue, although the measure is expected to pass without issue.
However, it is important to note that residents who break the new Tier 4 lockdown rules repeatedly will face arrest if police determine that such action is required. Rule breakers will still face fines for violating the lockdown, even on their first offense.
Hundreds of people have already been arrested under the legislation since the pandemic began, although, most of these arrests took place at protests or parties and other mass gatherings.
The map below shows which areas are in which tiers after midnight on Saturday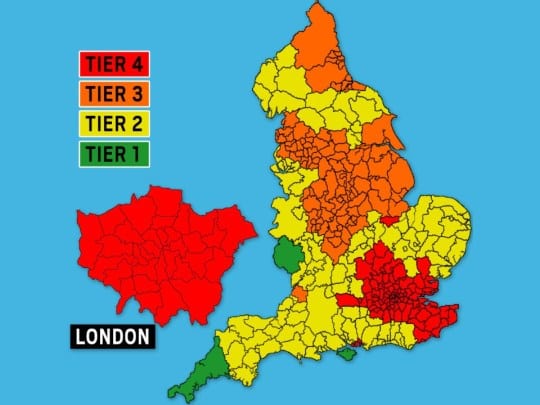 There was a rush to leave Tier 4 regions before the lockdown began. These residents did not break the law, but were strongly advised not to travel.
At a Downing Street press conference, Chief medical officer Chris Whitty urged citizens to stay in town.
"The reason for that is if you look at the South East, if you look at the East of England and look at London, there has been a really dramatic increase in the proportion of the cases that we see when we do the screening tests, which are not absolutely exact but pretty accurate, which would imply that in the South East, 43% of the virus is now this new variant," Whitty said, according to Metro.
"In the East of England it's 59% and in London 62%. The numbers may vary slightly but those are broadly right. And those have gone up very very fast, over the last few weeks. So this has really gone incredibly quickly. They are much lower in other areas of the country," he added.
Whitty went on to say that the police have done an amazing job of enforcement, or "light touch enforcement," as he called it.
On Wednesday, Boris Johnson said it would be "inhuman" to cancel household mixing plans for Christmas.

Four days later, the PM has placed London and large parts of the South East into new Tier 4 restrictions, forcing millions to cancel festive plans.https://t.co/4SJPcRFcKJ pic.twitter.com/2bNrGbQrsQ

— Sky News (@SkyNews) December 19, 2020
Police have handed out fixed penalty notices for breaches of the rules. They have also helped people keep in line with what they need to do. Whitty also noted that the bulk of the population takes this issue incredibly seriously.
People living in tier one, two, and three areas have also been given new advice on holiday planning. Bubble rules have been slashed so households can only meet up on Christmas Day and only if they are staying local. Traveling abroad, even in these areas, is restricted.
A Home Office spokesperson said that authorities expect the majority of people to do the right thing and to comply with these new restrictions to keep themselves and their loved-ones safe.
29 people were previously arrested in central London during an anti-lockdown protest for a number of offences, including breaching Covid-19 restrictions.
Scientists fear that there is a new strain of Covid spreading through the UK and authorities are hoping to slow down, or entirely stop the spread of the new strain. It is not clear how much of a threat the mutated strain is when compared with the original, but health officials are taking steps to see that it doesn't get any worse.